There's been much talk about the 'Great Resignation' during and after the pandemic. Is it real? Are UK employees leaving their jobs in droves? And what can ecommerce business owners do about it? 
Is the Great Resignation a Great Exaggeration?
Change is afoot. The number of people not working has increased by 586 000, according to the 2022 UK Great Resignation Report. The latest figures published by the Office for National Statistics show that the number of unemployed people not looking for a job increased during the pandemic to 21,3%. That's a 1% increase which hasn't been seen since records began. It implies that people are indeed leaving their jobs. 
Businesses must understand why people have changed their views on work and working. Let's look at the reasons people cited for leaving their jobs. Surprisingly, it's not because they're not being paid enough! The pandemic changed people's perspectives on work.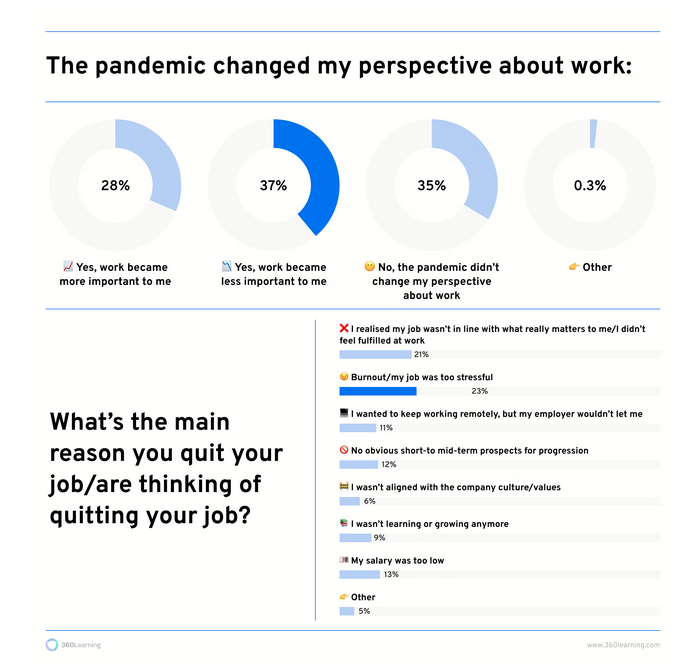 The figure above, from a study conducted by 360Learning, illustrates that people's relationship with work has changed. Some have realised that their work/life balance is out of kilter. Others want to work remotely or change their lives to be more sustainable and less dependent on external factors. People have been forced to face reality – they're burned out, and their work no longer fulfils them. 
Before we look at honey holes to find relevant talent for your ecommerce business, let's talk about strategies you can execute to keep employees interested in work. 
Enter the people's team
HR departments are no longer known as just HR. They have become 'People' teams. The difference? Today's challenges to keep and attract employees are very different from what they used to be. It's no longer good enough to offer the highest salary and the biggest benefits. Companies must spend time understanding and growing their employees as human beings and workers. Learning and development (L&D) sit at the centre of this. People who learn and grow are less likely to look for greener pastures. Why stray if you have everything you need right here? And better the devil you know… and all that jazz. L&D managers worth their salt will manage people effectively by looking at their stress levels, work-related challenges, conflict management and career development. A happy employee is an employee that stays put. 
Fish where the fish are 
You are already sitting with the biggest talent pool available in the marketplace. When up-skilled, your current employees can become your most valuable assets for years to come. Before looking elsewhere, think strategically about what you, as an employer, offer. Do you provide child care for single parents? Have you considered hybrid work arrangements or even remote working? Are you providing support for people who work from home? These are just some of the questions you might want to ask yourself. 
The big burn
If employees leave because they feel stressed and burned out, you can lighten the load by opting for a four-day workweek. But what does stress and burnout look like? It looks different in different lines of work. Healthcare workers might suffer from trauma after the pandemic that took the world by storm. Shift workers might experience problems with sleeping patterns, their daily routine and relationships. Common symptoms of burnout include exhaustion, cynicism, a lack of purpose and being short-tempered. 
Address burnout on a case-by-case basis. We are all human and want to be treated humanely at work. We want to feel a sense of purpose. A sense that what we do every day is more important than just paying the bills at the end of the month. We want to connect with ourselves, the people we work with, and the companies we work for. We don't like feeling like we're numbers on a spreadsheet. Creating an environment where people feel important, appreciated, respected and listened to will create true human capital. The kind that's worth more than the most sought-after share on the stock market. 
At Truevo, we encourage people to think outside the box, be themselves, and grow beyond their own expectations. Our people team, yes, we have one, looks beyond KPIs at the person sitting behind the computer. We work on a hybrid model and our workforce, like our services, spans the globe. If it's work satisfaction you're after, drop us a line. We can't wait to build a future together.